Munich, June 17, 2019 The "Headhunter of the Year" award recognizes the best executive search firms in Germany in various categories and this year honors Mint Solutions with third place in the Client Experience category.
The personnel consultancy specializing in STEM professions has been nominated several times in various categories in recent years. The "Headhunter of the Year" award recognizes Germany's best executive search firms for outstanding performance in five different categories: Executive Search, Best Newcomer, Candidate Experience, Client Experience and Innovation.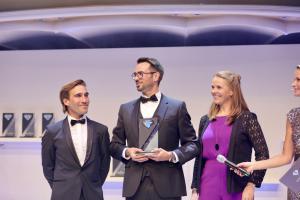 The Client Experience category evaluates client relationships and experiences throughout the process between executive search firms and clients, i.e., the companies that hire the executive search firm to conduct a search. In view of innovative recruiting technologies and active sourcing activities in companies, it is important for recruiters to convince personnel managers of their value. The perceived client experience of clients plays a decisive role here and can contribute to the differentiation of an HR consultancy from the competition.
A good client experience results in high customer satisfaction, customer loyalty and the willingness of the client to act as an enthusiastic ambassador for the brand and the products of the HR consultancy. "Our employees live a passionate service mindset and work "FOR" and "WITH" the customer according to our claim "Our network for your success". Our individual, trusting and personal consulting at eye level has brought us success for almost nine years," says Christian Düngfelder, Managing Director of MINT Solutions.
At MINT Solutions, the jury was impressed by the agile way of working with KANBAN and SCRUM, which makes the client experience visible. Processes and statuses are visible to all employees on SCRUM boards and are regularly discussed and improved in stand-up meetings. Transparency and openness in the topic of client experience are thus implemented in an exemplary manner and promoted as part of the culture of MINT Solutions.